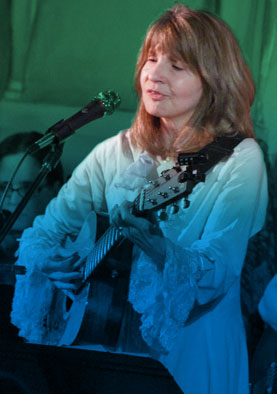 Jane lives many musical lives. Starting from her classical training as a child she grew to appreciate all styles of music, and has included elements of classical, folk, jazz, country, and ethnic music into her work. In all these forms, Jane's music invites introspection and seeks to have a calming influence. "Pitt's original songs are very sunny things about nature and hope that she somehow brings off through sheer sincerity." (Cadence Magazine)
She has been writing songs ever since she discovered, at 15, that if she played guitar instead of oboe she could sing at the same time. Following early years of college concerts and coffeehouse gigs, in 1974 Jane recorded "This Beautiful Feeling" for Unity Records, now re-released by Merry-Go-Round Music.
Five albums have followed: "Wind Off the Water," recorded in Nashville and produced by Grammy winner Mac Gayden, and then "Peace of the River," recorded with some of the Detroit area's finest jazz musicians.
As Lady Lullaby (ladylullaby.com), Jane became fascinated by the power of bedtime songs for both babies and adults, so it was back to Nashville for "Midnight Lullaby," and Asheville, NC for "Road To Dreamland," both collections of relaxing contemporary bedtime songs for all ages, written by well-known songwriters like Bob Dylan, Dixie Chicks, Neil Young, Johnny Mercer, George Gershwin and more.
Jane's latest project is "I Forgot About the Stars," an album of original songs (except for one by Miles Davis, who is the exception to every rule) in vintage jazz style, produced and recorded with Chris Rosser and the other great musicians based in Asheville. These songs tell stories of love and loss, hope and dreams, reality and imagination.
Her choral works are published by Transcontinental Music Publications, and distributed by Hal Leonard. Winner of the Grand Prize at the Amadeus Choral Competition for "Remember," Jane's pieces are suitable for community, school, and sacred music choirs.
Originally from the Motor City, Jane now lives in the lively musical atmosphere of beautiful Asheville, North Carolina.