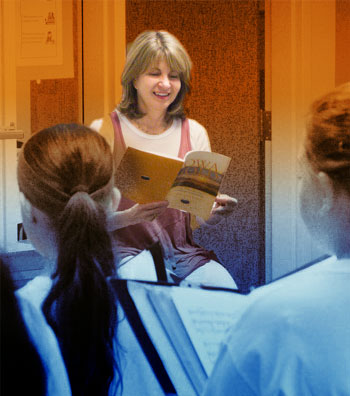 Jane's choral music has been performed by choirs around the country, from elementary schools to universities; from congregations of all denominations to community gatherings. Jane won the grand prize in the International Choral Competition of the Amadeus Choir of Toronto.

A cappella SATB. Text from Psalm 139. Performed by Appalachian State University, Boone, NC.
For SATB a cappella choir with rehearsal keyboard. Text by Rumi. Performed by the Walden Creative Musician's Retreat Choir, Dublin, New Hampshire.
SSA Choir and Keyboard. Part of a larger 15 minute cantata. Text by Jane Roman Pitt. Performed by the Namaste Women's Choir, Culver City, CA.
For SATB a cappella choir with rehearsal keyboard. Text from Song of Solomon. Performed by Eastern Michigan University Chamber Choir, Ypsilanti, MI.
For SAB choir with keyboard accompaniment. For Dr. Martin Luther King, Jr. Performed by Our Own Thing Chorale and Chaverim B'Shirim, Ann Arbor, MI.
SATB a cappella. A prayer for peace in six languages. Performed by Pioneer High School Choir, Ann Arbor, MI.
For solo voice and SATB choir with rehearsal keyboard. Commissioned and performed by the choir of Congregation Emanu-El, New York City. Modified solo range available.
Inspired by the lush summertime fields of Iowa, I wrote this song honoring the farming tradition, with the hope that it stays vibrant and wholesome for generations to come. "Iowa Gold" was officially honored by the Iowa House of Representatives when groups of school children went to sing it for them. Iowa landscape photographer Ken West and I created this music video; it was produced and recorded by Tim Britton.
A choral arrangement for two or three part choirs is available for purchase — $2.00 (PDF for printing) minimum order: 5 copies.